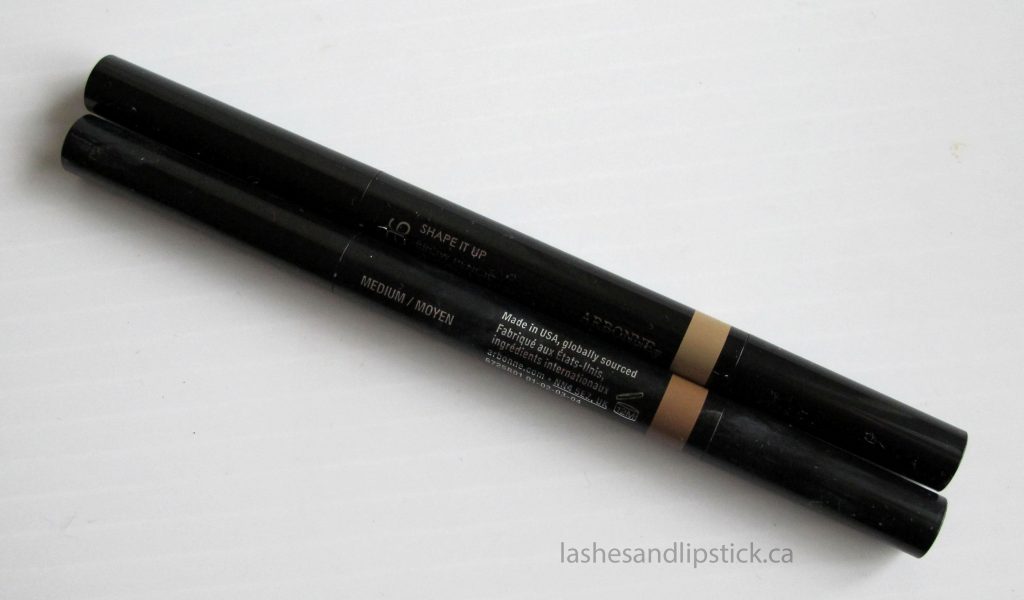 I would consider myself a bit of a brow expert. I shape them and tattoo them on for a living. I draw them on clients after their brow shaping or as part of their makeup application. I like to think I know what I'm talking about when it comes to brow products. They're not all created equally and there's very few products out there that I'd actually use on clients. When I find a brow product that I love and is worth buying, I have to share it here with you. That brings us to this Arbonne Shape It Up Brow Pencils post.
These brow pencils are retractable, and two-sided. One side is the pencil, the other side is a brow brush. They're available in three shades: light, medium, dark. The two shades pictured in this post are light and medium.
Arbonne Shape It Up Brow Pencils apply smoothly and can be built up from natural to dramatic. They are long-wearing and smudge-proof. Though for extra longevity, I do use a clear brow gel to comb brow hairs in place and lock in color.
For a natural but filled in look, use soft wispy strokes but for something more dramatic, you need to be a little heavy-handed to get that desired look.
It's formulated with larch and green tea to help brows look fuller. The formula is creamy but not soft -it has a bit of a waxy texture which makes it perfect for filling in sparse or gappy eyebrows.
I'm using both of these shades in my pro makeup kit. I used medium more than light because it's not super dark and I can still build it up or tone it down on blondes. Light is good to have because it leans cooler for the off chance that I have a really cool-toned client.
Dark would be best suited for those with olive or tanned skin. I'm going to need to get one for my kit ;)
Arbonne Shape It Up Brow Pencils are $32 CDN and can be purchased through your Arbonne rep or online at arbonne.com
Happy Brow Filling!!