Cost: $13.95 CDN
Available at: Shoppers Drug Mart, Rexall
MY 2 CENTS
I'm already a big fan of the original Marcelle Xtension Plus Mascara, so the Xtension Plus + PROLASH Growth Complex is no different.
Like the original Xtension Plus Mascara, this one also is really good at curling, defining, and separating the lashes without clumping. The only difference is the conditioner that stimulates lash growth and makes them more resistant to breakage.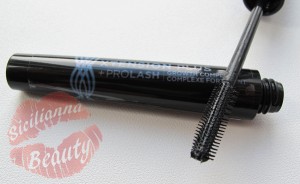 The brush of PROLASH is the same as Xtension Plus. One side is a row of longer bristles that gets right to the root of the lash and on the other side, shorter bristles that get each one of my bottom lashes.
I'm not sure if my lashes got any longer but I have noticed them to be stronger.